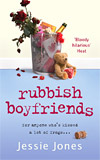 Rubbish Boyfriends
Avon, published 7th January, 2008
Everyone's had rubbish boyfriends but Dayna has had more than her fair share. She kicks off with Simon, a boy with the libido of a rabbit. On to Chris who is kind, sensitive and loving. Oh, and he wants to be a rock star. As if. Then there's wisecracking Cockney geezer Archie, closely followed by sweet, lovely Mark. But of course, they all turn out to be – for various reasons – rubbish.
Just as she's despairing of ever finding Mr Right, along comes Cristian. He treats her like a princess, so why, then, doesn't her heart sing? Is he really so perfect after all? Chance encounters with all of her exes bring her to the present day – and the maternity ward. But who's the daddy?